Regular price
$120.00 USD
Regular price
Sale price
$120.00 USD
Unit price
per
Sale
Sold out
Share
Contents & Expiry

Contents:
100g/package (around 30days)

Expiry:
2 years from Manufactured
(Please keep in dry and cool place before and after opened)
Ingredients

Dried beer yeast, Rice powder, Dextrin, Skipjack tuna extract powder, Skipjack tuna powder, Swiftlet's Nest Extract, Botanical chitosan, Fish collagen peptide, Tremella fungus extract, Fermented plant extract powder, Taurine (extracted), Swiftlet's Nest Powder, Coenzyme Q10
Nutrition Facts

(Per 100g)
Energy: 315 kcal
Protein: 28.80%
Fat: 1.30%
Fibre: 1.26%
Coarse Ash: 3.25%
View full details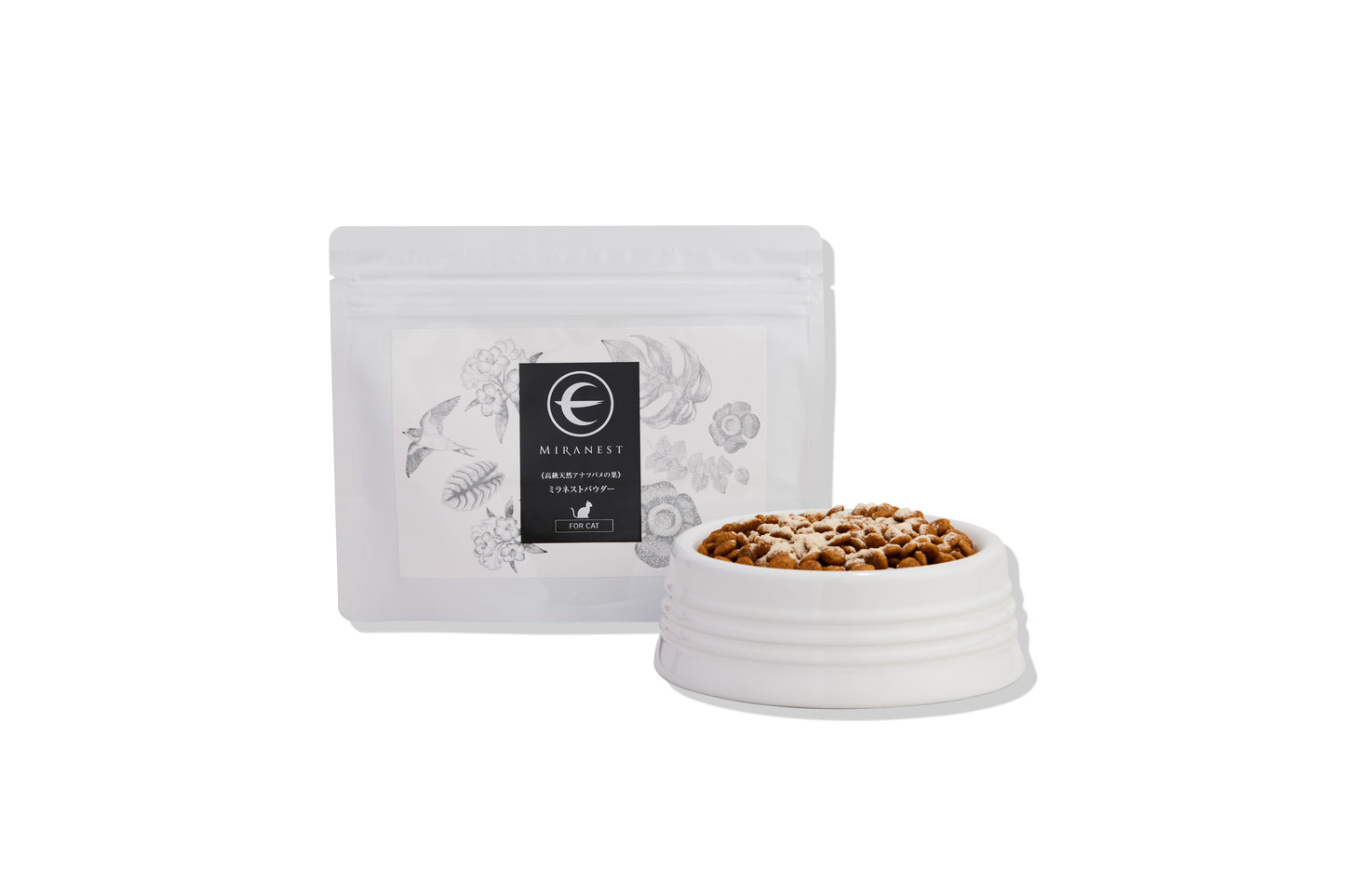 About the Product
Designed specifically to enhance skin immunity, promote strong and glossy fur, and incorporate nutritional elements to address common kidney and excretion issues in cats, our product has garnered acclaim from many satisfied users. In addition to effectively enhancing fur luster and reducing odors in excretions, we have chosen natural bonito fish extract, a favorite among cats, to improve their appetite and address selective eating habits.

The product is free from additives, gluten, and developed to human food-grade standards, ensuring that your beloved feline companions can enjoy the healthiest supplemental food every day with peace of mind.
Natural Ingredients
We select several other natural and quality ingredients which the pet needs to maintain healthy condition.
It is about the purest care to your beloved pets which we care.
Swiftlet's Nest

We choose the highest lever of natural swiftlet's nest from Borneo, Malaysia. Each nest is picked by our own hands in order to assure its authenticity and quality.

Tuna Powder

Protein-rich and powdered skipjack tuna which improve the appetite and provide the necessary energy for cats.

Dried Beer Yeast & Dextrin

Rich in lactic acid bacteria and dietary fibre which supports a healthy diet by improving digest and lower anxious.

Fish Collagen Peptide

Collagen is essential for skin and coat care. We use the collagen peptide which is derived from fish and easy for absorption.

White Jelly Fungus

Natural moisturising material which contains extract Glyconutrients which swiftlet's nest does not contain.

Plant Fermentation Extract

Long-aged plant fermentation extracts from domestic raw materials regulate the intestinal environment.

Biotin

A water-soluble B vitamin found naturally in vegetables which plays a vital role to maintain healthy skin and fur.

Coenzyme Q10

The outstanding anti-aging effect due to its ability to create energy in the body and improving the metabolism.

Rice Powder

To avoid wheat allergies, we use rice powder which made from Japanese rice flour with a high amino acid score instead of wheat flour.
Feeding Instructions
How much to feed your cats depends on the size of cats.
You can mix the powder with both dried and wet food or even put it in drinkable water.


(Using the spoon attached to measure the amount is recommended)
FAQ
Is there any preservative, colouring and flavouring?

We do not use any preservative, colouring or flavouring additives.
When is the expiration date?

2 years from manufactured date before opening.
Is the product made in Japan

Yes, all the products are made in Japan. The swiftlet's nest itself is taken from Borneo Malaysia.
How if my pets have allergies?

We choose the ingredients with lower allergic risk. However, please check the ingredients list first before feeding to your pets.
Is it okay to feed my pets also with other supplement?

Since MIRANEST is made of natural food ingredients, it is safe to use with other supplement. However, please observe if there's any discomfort occurred.
Is it okay to feed my pets if he/she is taken medicine too?

In this case, please consult with professional veterinary first.
How to preserve the product?

Before/after the package is opened, please preserve it under dry and cool place. Make sure the the package is sealed properly after opened.
How old should my pets be to use the product?

The product should be fed to any pets older than 3 months.