Regular price
$120.00 USD
Regular price
Sale price
$120.00 USD
Unit price
per
Sale
Sold out
Contents & Expiry

Contents:
30 packs/box (12g x 30g)

Expiry:
2 years from Manufactured
(Please keep in dry and cool place before and after opened)
Ingredients

Sweet potato, Beet sugar, Swiftlet's nest extract, Dried yeast, Dextrin, fish collagen peptide, Yeast extract, agar, Tremella fungus extract, Swiftlet's nest extract powder, Fermented plant extract, Polysaccharide thickener, Citric acid
Nutrition Facts

(Per 12g)
Energy: 15kcal
Protein: above 3.0%
Fat: above 0.3%
Fibre: under 0.3%
Coarse Ash: under 0.5%
Share
View full details
About the Product
In addition to rich swiftlet's nest essence, our product also includes sweet potato extract, providing pets with natural flavor and an adequate intake of dietary fiber. Combined with baked yeast (dry yeast), it enhances the pet's intestinal health and offers a smoky flavor without using animal-derived ingredients. It is convenient to carry and can be fed directly in various settings, making it an easy way for dogs to supplement swiftlet's nest essence and essential nutrients, providing a healthier choice during everyday training and communication.
Natural Ingredients
We select several other natural and quality ingredients which the pet needs to maintain healthy condition.
It is about the purest care to your beloved pets which we care.
Swiftlet's Nest

We choose the highest lever of natural swiftlet's nest from Borneo, Malaysia. Each nest is picked by our own hands in order to assure its authenticity and quality.

Sweet Potato

Japanese sweet potato which contains rich vitamin, fibre and also excites the appetite.

Beet sugar

The sugar extracted from natural beet of Hokkaido which contains rich oligosaccharide that can improve the digest.

Dried Yeast & Dextrin

Rich in lactic acid bacteria and dietary fibre which supports a healthy diet by improving digest and lower anxious.

Fish Collagen Peptide

Collagen is essential for skin and coat care. We use the collagen peptide which is derived from fish and easy for absorption.

Agar

Japanese agar made of nature sea weed which contains fibre to help on regular digestion and suppress blood sugar.

White Jelly Fungus

Natural moisturising material which contains extract Glyconutrients which swiftlet's nest does not contain.

Plant Fermentation Extract

Long-aged plant fermentation extracts from domestic raw materials regulate the intestinal environment.
Feeding Instructions
1 stick per day is recommended.
Please adjust according to the condition of your pets.
As Treat

You can use jelly stick as treat to improve communication with you pets.

Mix with food

You can choose to mix the jelly with regular food which can increase the appetite.

Outside

Give jelly stick at outside while working to charge necessary sugar and energy.
User's Voice
Hundreds of pets owners have witnessed the miracle to their pets.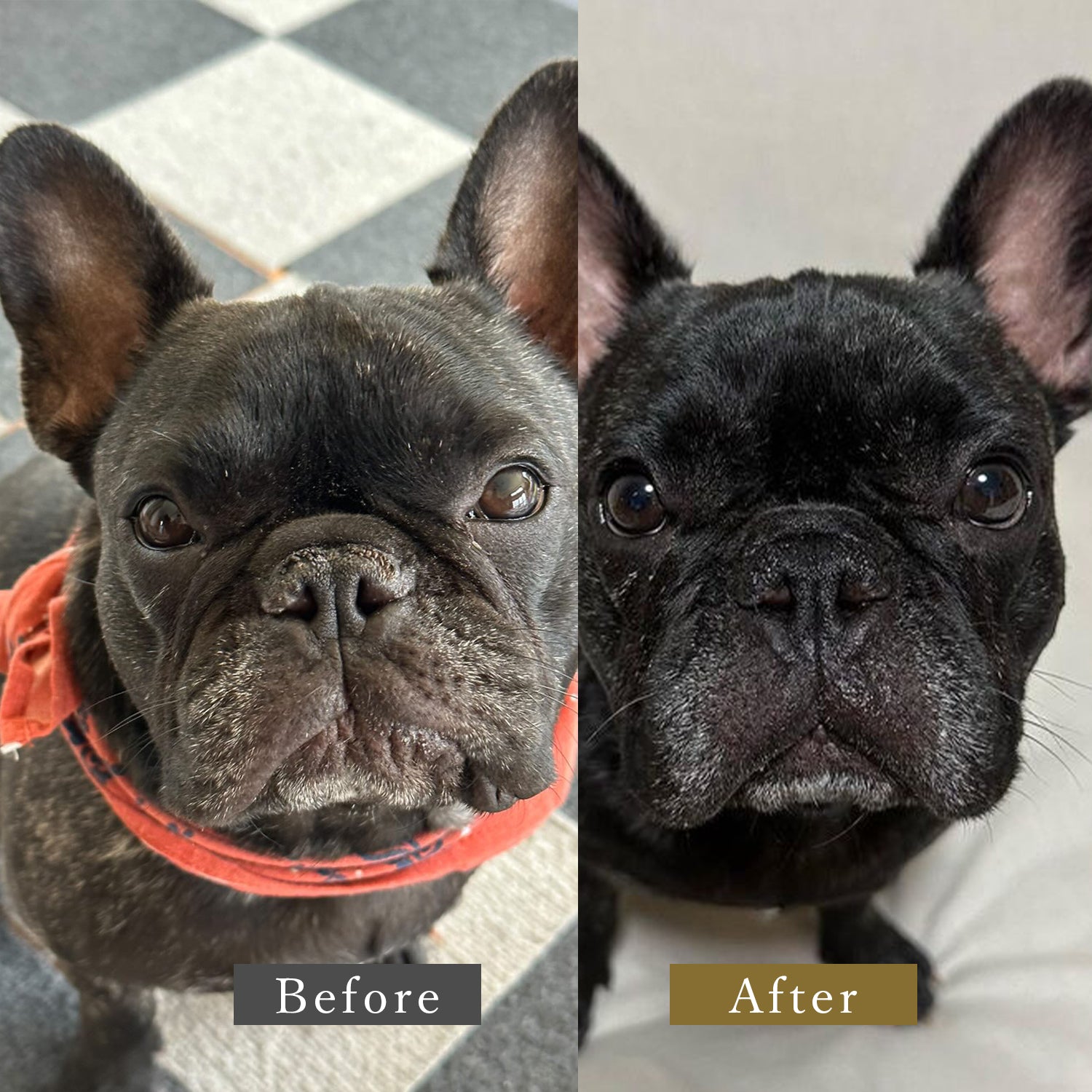 The dry nose issue has been completely resolved.
"The dry nose issue has been completely resolved. Since the surgery, His nose had become prone to dryness and moisturizers weren't effective. After a month of taking the essence jelly, the results were remarkable. Not only did his nose become healthy and moist, but his fur also became soft, shiny, and fluffy. It's truly amazing!"
The injured and inflamed paw had grown all its fur back in just one month.
"Luna is the type whose hands get rough during seasonal changes and dryness. When I apply cream for her paws, she gets more concerned and licks it off.
Around the two-week mark, she stopped worrying about her hands and, surprisingly, some fur started growing!"
FAQ
Is there any preservative, colouring and flavouring?

We do not use any preservative, colouring or flavouring additives
When is the expiration date?

2 years from manufactured date before opening.
Is the product made in Japan

Yes, all the products are made in Japan. The swiftlet's nest itself is taken from Borneo Malaysia.
How if my pets have allergies?

We choose the ingredients with lower allergic risk. However, please check the ingredients list first before feeding to your pets.
Is it okay to feed my pets also with other supplement?

Since MIRANEST is made of natural food ingredients, it is safe to use with other supplement. However, please observe if there's any discomfort occurred.
Is it okay to feed my pets if he/she is taken medicine too?

In this case, please consult with professional veterinary first.
How to preserve the product?

Before/after the package is opened, please preserve it under dry and cool place. Make sure the the package is sealed properly after opened.
How old should my pets be to use the product?

The product should be fed to any pets older than 3 months.